Iceland's Strongest Man Contest: Boris Wins, Qualifies for WSMSS
Since 1985, Iceland's Strongest Man contest has featured marquee names in the sport - Jon Pall Sigmarsson, Magnus Ver Magnusson, Hjalti Arnason and Torfi Olafson are among the winners - and this weekend, Kristinn Oskar (aka Boris) Haraldsson added his name to the list, which also netted him an invitation to the upcoming World's Strongest Man Super Series Moscow Grand Prix.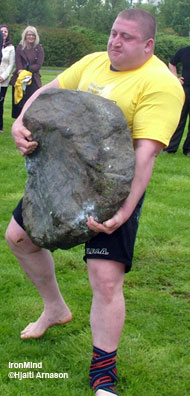 Vladislav Alhazov hauls the Husafell Stone at this weekend's Iceland's Strongest Man contest, broken leg and all. IronMind® | Hjalti Arnason photo.

Boris "broke the world record in the 13-cm squat with a lift of 665 kg," Hjalti Arnason told IronMind®, edging out Vladislav Alhazov (Israel), "who is considered the strongest full squatter in the world," and who did 660 kg. "Third was Don Pope (USA), with 600 kg." Boris was first overall, with 66 points, Pope was second overall, with 63 points, and Jens Fylkisson was third overall, with 39 points

Underlining its stature in the strongman world, this contest has a tradition of inviting top international competitors - such as Bill Kazmaier in years past - who, while they cannot take the overall title, add to the luster of the contest, and that was why Don Pope and Vladislav Alhazov were invited this year, Arnason explained.

Vladislov Alhazov did something even more remarkable than even his squatting indicates: He broke his leg while loading the Atlas Stones, but he went on to carry the Husafell stone a few meters! "He is such a tough guy," Arnason said with admiration. "Last night he had surgery, they put screws in his leg and now it's in a cast."

And for stone lifting aficionados, get this: The Husafell stone used in this contest is the sister stone of the actual original Husafell stone: It's from the same hillside, has a similar shape, and while it weighs four kilos less, Arnason said, it's harder to carry.