Ian Wilson Breaks USA Weightlifting Records
Ian Wilson broke all three US national junior weightlifting records in the 105-kg category, Jim Schmitz reported to IronMind.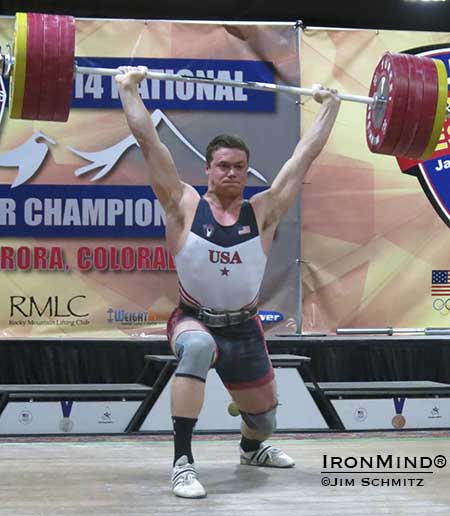 Ian Wilson stuck this 205-kg clean and jerk yesterday, as part of his record-breaking spree at the USA National Junior Weightlifting Championships. IronMind® | Photo courtesy of Jim Schmitz


"Sunday, February 2, 2014, at USA's National Junior Championships in Denver, Colorado, Ian Wilson, from Berkeley, CA, who turned 20 on January 8th set three US National Junior Records, snatching 170, clean & jerking 205 and 375 total in the 105 class. Ian broke Casey Burgener's records of 165, 200 & 365. Ian weighed 100.3 and his attempts were 160, 166 miss, 170 success, 195, 205, and missed the clean with 210," said Schmitz*.
*All weights are in kilos.

###



Want to talk strength? Join the IronMind Forum.

You can also follow IronMind on Twitter and on Facebook.