IRONMAN Features Magnus Samuelsson
The December issue of IRONMAN magazine has just come out and it features a terrific story and photos on one of the most popular competitors on the professional strongman circuit: Magnus Samuelsson.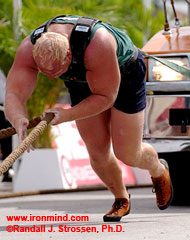 With the size and strength of his arms, when Magnus Samuelsson digs in on the truck pull, it's as if he has 4-leg drive, which might be why he won this event in the 2004 MET-Rx World's Strongest Man contest. IronMind® | Randall J. Strossen, Ph.D. photo.
The 1998 World's Strongest Man winner's presence goes beyond even his standout performances in major competitions, and his two-meter tall frame includes what are widely referred to as the World's Strongest Arms, not to mention grip strength in the power tool class (this is one guy who definitely is not intimidated by the No. 4 Captains of Crush® Gripper).

If you're a strongman fan, just want to get stronger, or if grip strength is your thing, get the December issue of IRONMAN magazine.