IHGF Will Drug Test Its Championships Events
As the International Highland Games Federation (IHGF) kicks off its 2010 Super Series in Bressuire, France this coming weekend, it was announced that all of the organization's championships events will have random drug tests.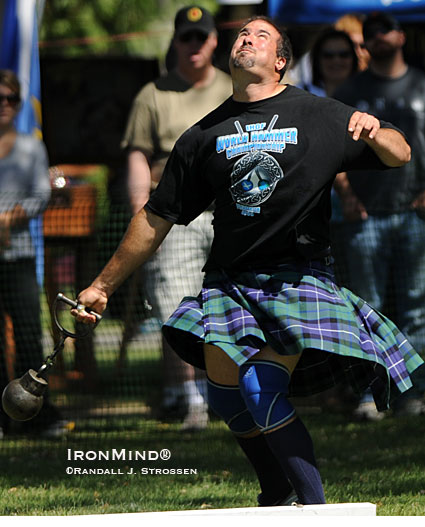 2008 Highland Games world champion Sean Betz (shown competing in Pleasanton, California) is in the star-studded field that opens the IHGF Super Series in Bressuire, France. IronMind® | Randall J. Strossen photo.


2010 IHGF World Highland Games Super Series
by Francis Brebner

The first leg of the IHGF World Highland Games Super Series will get underway this coming weekend in Bressuire, France on the 12-13 June, and the excitement surrounding this event is escalating. What has been called one of the greatest gatherings of the world's premier Highland Games athletes will kick off the Super Series of IHGF World Championships events. This year's IHGF World Super Series includes a total of three venues: Bressuire, France; Pleasanton, California; and Loon Mountain, New Hampshire.



The lineup of national and world champion heavies includes past world champions Ryan Vierra, Sean Betz, and Aaron Neighbour and current world champion Larry Brock. A total of ten international athletes will be facing off over the two-day event in beautiful Bressuire, France, a thousand-year-old castle which is thought to be one of the world's most desirable locations for a Highland Games. This should prove very interesting as other big-named stars of the sport, such as Olympian Petur Gudmundsson and Commonwealth shot putter Scott Rider, will be there as well to make things tough in their favoured events.


All IHGF Championships events will have random drug testing to ensure that any title won has been done so legitimately. The IHGF is excited about the introduction of drug testing as we feel that it is our responsibility as an international organization to promote the Highland Games in a positive light, and to do that, we need to keep the future of our sport clean.


Want to talk strength? Join the IronMind® Forum!

You can also follow IronMind® on Twitter.