IHGF Highland Games Clinic in Helsinki
Yesterday, the IHGF held Finland's "very first coaching clinic in Highland Games," Francis Brebner told IronMInd.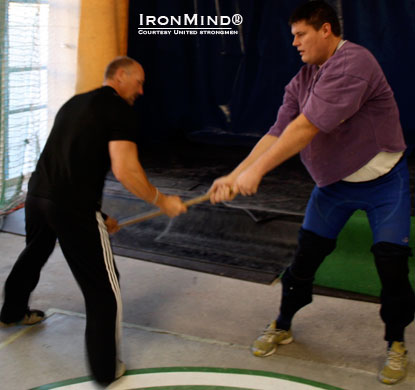 2000 World's Strongest Man winner Janne Virtanen gets coached on the hammer by Francis Brebner. IronMind® | Photo courtesy of United Strongmen.


Organized by Jyrki Rantanen, who is "the president of the Highland Games Federation for Finland in affiliation with the IHGF," Brebner said that the clinic "attracted more than fifteen male and female Finnish athletes with many coming from backgrounds in track and field and strength sports," including 2000 World's Strongest Man winner Janne Virtanen.

"The clinic lasted a total of seven hours, first covering many topics [such as] the history of the sport and its rules and regulations. This was later followed by coaching of several traditional throwing disciplines and then a ranking competition where the top Finnish athlete was guaranteed a place in next year's IHGF European Highland Games Team Championships in the majestic setting of Bressuire, France.

"Janne Hartikainen, the three-times 105-kg Strongman world champion made a huge impression with his all-around technique and athletic performance and was the obvious selection for the European Team Championships.

"Also, Timo Nissirn, Janne Virtanen, Joana Tanner and many other athletes showed good overall results," said Brebner.

Brebner said he "had much discussion during this trip" with Daruzs, Redkin and Rantanen "about the future of the sport in Europe and preparations for next year's IHGF European Highland Games Super Series which will be filmed for TV networks. Along with this, also great headway was made for other new major championship events to be staged in Europe next year," so stay tuned for more developments.

###

The IronMind Forum: discuss this article, talk strength, get help with your training.

You can also follow IronMind on Twitter.