IHGF Highland Games Clinic: Play With Stick and Stones
International Highland Games Federation vice president Francis Brebner will be hosting his second IHGF Highland Games Clinic this Sunday in Orange County, and he told IronMind®, "There are still a few open spots available."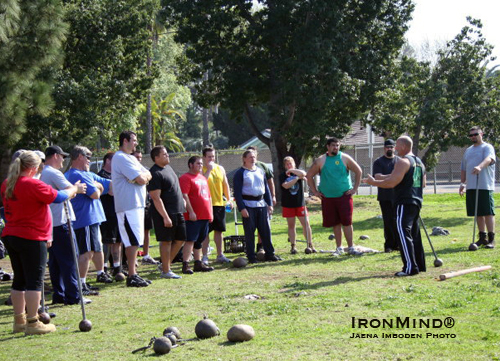 Playing with sticks and stones can be a lot of fun - Orange County, California hold its second IHGF clinic this weekend. IronMind® | Jaena Imboden photo.


The clinic will be covering the open stone, weight for distance, weight over the bar, hammer and caber. For further information on joining the clinic and where it is located, please contact the clinic organizer West Imboden.

And just as a reminder, you don't have to be a physical giant to enjoy and excel in the Highland Games - such big names as Francis Brebner, Hamish Davidson and Alistair Gunn were all under 6' tall, for example.