IHGF Expands into Belarus and Latvia
International Highland Games Federation (IHGF) vice president Francis Brebner told IronMind that "Latvia and Belarus is affiliated with with the IHGF to promote traditional Highland games in the Baltic States."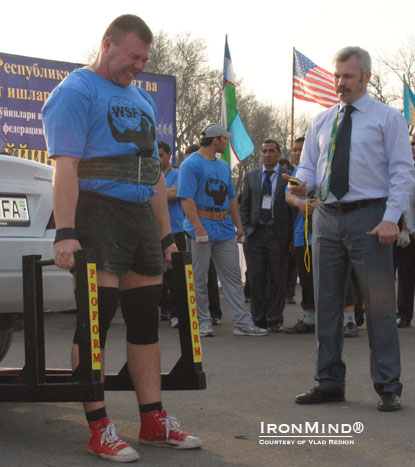 Vladislav Redkin (right) will be promoting the traditional Highland Games as well as strongman in Belarus and Latvia, according to an agreement he as reached with the IHGF. IronMind® | Courtesy of Vlad Redkin.


"Vladislav Redkin from Latvia, who has been a strength promoter for over fifteen years and head of the CIS and Baltic States Federation of Strength Athletes, has just recently affiliated [with the IHGF] and has been made an IHGF representative and will also now be promoting the sport of traditional Highland Games," Brebner said.

Brebner reported that Vlad said, "We are very happy be as part of IHGF. Our Federation—CIS and Baltic States Federation of Strength Athletes—plans to add in the name of federation words: Highland Games. We also plan to change our website and translate all rules and all news about the Highland Games world into Russian language also.

"We are ready together with IHGF to advance Highland Games in the CIS and Baltic States and also to hold tournaments of Highland Games and to prepare athletes in the disciplines of the traditional events also. We will use our stored experience in strongman sport to promote Highland Games in the Eastern Europe also."


###



The IronMind Forum: discuss this article, talk strength, get help with your training.

You can also follow IronMind on Twitter.