IHGF Clinic, Strength Games and 2012 Orange County Rolling Thunder Championships
"Yesterday's event went very well," Francis Brebner reported to IronMind, "kicked of with a three-hour training clinic followed by the Strength Games."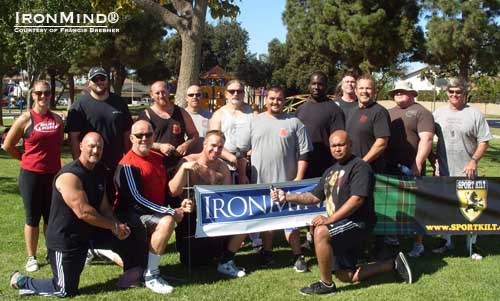 Francis Brebner (first row, left) organized a seminar followed by a Strength Games competition and the 2012 Orange County Rolling Thunder Championships, plus he helped referee an official attempt to close the Captains of Crush No. 3 gripper. IronMind® | Photo courtesy of Francis Brebner.


"Athletes competed in a battery of tests which covered Stone Putting, Weight Throwing, Caber, Farmer's Walk, Log Lift, Atlas Stone Carry and then we finished off with the 2012 Orange Country Rolling Thunder Championships. On hand was legendary strongman Odd Haugen, who officiated the strength events and also preformed a exhibition with the Rolling Thunderer with 246 lb.

"Scott Hutchinson set a personal best in the 28-lb. weight for distance (81' plus) and other highlights of the event were the Orange County Rolling Thunder Championships which was a very close battle between Jon Clark–Eklund and Mike Baltren, with the win going to Jon with a lift of 196 lb., and Dominic Martin successfully closing the Captains of Crush No. 3 gripper on his official attempt.

"On behalf of the IHGF and all the athletes, I would like to thank Teresa Hartel of Met-Rx for supporting this event, which was very much appreciated," Brebner said.

IHGF Strength Games, overall results:

Open
Scott Hutchinson
Mike Baltren
Jon–Clark Eklund
Max Shanks
West Imboden
Andy Wosster
Gary Escoffery
Jason Swanson

Master
Jim Fraser
Steve Middleman
Larry–Clark Eklund
Steve Bellanger

Women
Heather MacDonald 



###

The IronMind Forum: discuss this article, talk strength, get help with your training.

You can also follow IronMind on Twitter.