IHGF Canadian Stones of Strength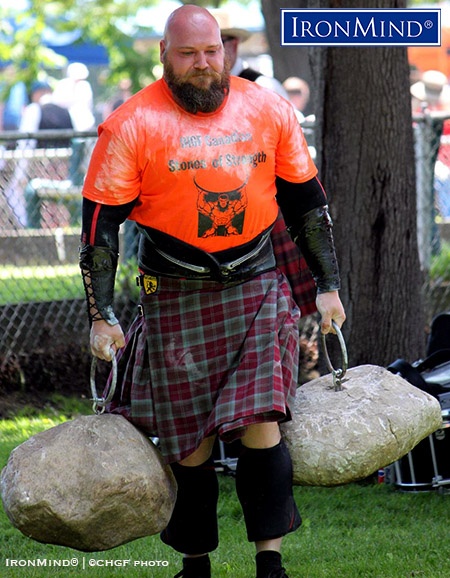 Brian Pennell won the 2018 IHGF Canadian Stones of Strength, which qualified him for the 2019 IHGF Stones of Strength World Challenge.



2018 IHGF Canadian Stones of Strength
by Francis Brebner
President, International Highland Games Federation (IHGF)
 
The 2018 IHGF Canadian Stones of Strength recently took place at the 55th Cobourg Scottish Festival & Highland Games in Cobourg, Ontario, to large crowds. The contest was also a qualifier for the top Canadian to go to the 2019 IHGF Stones of Strength World Challenge in Fefor, Norway. Originally consisting of 10 athletes, the field was reduced to 6 as 4 athletes unfortunately pulled out with training injuries leading up to the competition; the contenders included Brian Pennell, R. J. Kayser, Andrew Roach, Zach Maguire, Josh Turner, and Sean Crowe.

In the press medley, athletes had 1 minute to press stones weighing 200, 220, 240, and 260 lb. overhead. Four athletes managed to press the 200 and 220-lb. stones, with Pennell taking the win at 16.32 sec., followed by Roach at 20 sec. and Maguire at 22.48 sec.

The 315-lb. Atlas stone carry was done with no tacky for max distance. Kayser dominated the event with a distance 155'; second was Pennell at 93' 11" and third Roach at 79' 4".

In the 60-lb. stone put, which was done one-handed, Pennell notched his second win with an impressive distance of 16' 1.5". Up to the final round, Maguire was in fifth place before he lashed out a putt of 15' 2", which put him in second, just a half-inch ahead of Kayser at 15' 1.5".

In the Dinnie stone walk, athletes lifted two stones with rings attached and weighing 280 and 300 lb. for a combined weight of 580 lb. for max distance. With close results, Pennell just edged out his opponents with 19' 7" for the win. Roach was second at 19' and Maguire third at 18' 8".
 
The final event was the loading race, and athletes had to load field stones weighing 260 and 287 lb. and Atlas stones weighing 310, 330, and 375 lb. onto a 48" platform in 90 sec.; no tacky was allowed on the field stones. Kayser set the fastest time with 3 stones for the win at 28.16 sec. Pennell did 3 stones in 64 sec. and Maguire 3 stones in 84 sec.

Final placings
1. Brian Pennell 28
2. R. J. Kayser 21
3. Andrew Roach 20
4. Zach Maguire 20
5. Josh Turner 9
6. Sean Crowe 7


                                               ###



You can also follow IronMind on Twitter, Instagram and on Facebook.                        



Want to talk grip, strongman, weightlifting . . . everything strength? Visit the IronMind Forum.