IHGF Amateur World Championships
"The 2014 IHGF World Amateur Highland Games Championships have been scheduled for June 28-29th in Andoy, Norway —hosted by the NHGA, an affiliate of the IHGF," according to a press release sent to IronMind.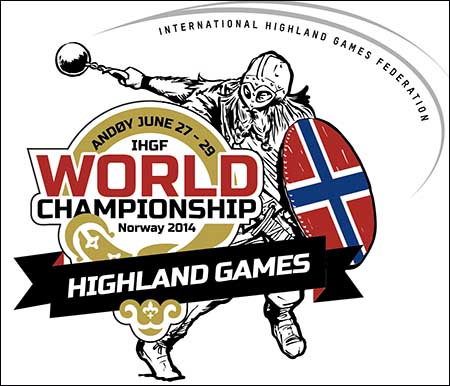 Norway is hosting the 2014 IHGF Amateur Highland Games World Championships. IronMind® | Courtesy of IHGF


"The IHGF are very happy to be working with such very good sports promoters as Sveinung Tangstad, president of the NHGA, and his wife, Lisbeth Seppola, the executive producer of the games. They have a real passion for the sport of Highland Games.

"We are very pleased that Andoy, Norway is selected as this year's hosting country for the IHGF World Amateur Highland Games Championships and for us to be able to bring the best amateur athletes from around the world to compete in our Highland Games here in Norway. This championships will be filmed for Norwegian TV as well as for other parts of Europe and USA TV networks is just magnificent.

"This is a very good launch to our plans within the NHGA in stepping it up with the hosting of World Championship events. Our aim is to build the sport much bigger for our athletes and also essentially to encourage more young blood into the sport here in Norway. 

"Furthermore, we have an outlook of building these games into an annual fixture on the international circuit, with our new hotel business, situated in one of the most picturesque settings overlooking the fjords and the ocean view in Northern Norway. We have built a training camp for Highland games throwing as well as a state of the art gym where young Norwegian athletes can get firsthand training in the sport and get all the help and encouragement to progress."

"We are also very delighted to be working with the IHGF as the world governing body for Highland Games in bringing the sport of Highland games to the next level here in Norway. We have arranged to have the IHGF hold seminars teaching about each of the throwing disciplines, the sport and its history, for the young athletes while here in Norway prior to the World Amateur Highland Games Championships.

Competitors
Jonathan Kelly (Ireland)
Daniel Dorow (Germany)
Martin Schiller (Austria)
Pieter Karst Bouma (Holland)
Attila Szabo (Hungary)
Jimmy Van De Walle (Belgium)
Stuart Anderson (Scotland)
Scott Hutchison (USA)
Duncan McCallum (USA)
Paul Boundy (Canada)
Yrjö Hämäläinen (Finland)
Daniel Viklund (Sweden)
Robert Stakston (Norway)

###



Want to talk strength? Join the IronMind Forum.

You can also follow IronMind on Twitter and on Facebook.