IHGF Adds German Affiliate
The International Highland Games Federation (IHGF) now has a German affiliate, Francis Brebner told IronMind today, with the common purpose of "advancing the Highland Games in Germany with an official German Highland Games series."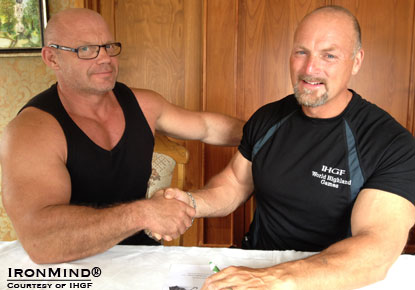 Hans Dieter Dorrow (left) will be promoting the traditional Highland Games in Germany, according to an agreement he as reached with the IHGF, Francis Brebner (right) told IronMind today. IronMind® | Photo courtesy of IHGF.


Under the leadership of Hans Dieter Dorrow, now an IHGF representative of the GHGF (German Highland games Federation), Brebner said the goal is to have Germany become "a fixture in the IHGF European HIghland Games Series in the near future."

The goal is to develop athletes "as they progress from the German ranks to the IHGF World Amateur Highland Games Championships to the IHGF Pro ranks," said Brebner.


"I believe with the IHGF we can bring our sport and its athletes in Germany to a whole new level with the TV that is now filming IHGF Championship events in Europe for TV networks and I would like the (GHGF) to be part of this," Dorrow told Brebner.

###

The IronMind Forum: discuss this article, talk strength, get help with your training.

You can also follow IronMind on Twitter.