IFSA's Ready to Rock . . . Podium Sweep is Predicted
Even though he said he "liked the first list better than the second one," because he sees Vidas Blekaitis and Derek Poundstone as definitely being top ten guys, IFSA managing director Christian Fennell supports Fortissimus 2008 as it has been described, and he said, "We'll clear the decks for our guys to come."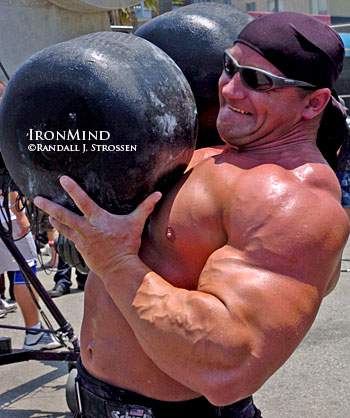 He's a four-time winner of World's Strongest Man and probably has the highest earnings ever in the field, so Mariusz Pudzianowski has no obvious need to compete in FORTISSIMUS 2008, leading IFSA's managing director Christian Fennell to say, "We hope he comes out to play." IronMind® | Randall J. Strossen, Ph.D. photo.

The question for Fennell was whether Mariusz Pudzianowski will show up. "We hope he comes out to play," Fennell said, noting that the four-time World's Strongest Man winner needs neither the publicity nor the paycheck. There could be more going on, too, behind the question because Fennell pulls no punches when it comes to predicting the outcome.

Thinking along party lines, Fennell said that in the original list, "Our guys, in addition to sweeping the podium, would take five of the top six places." Now, with the revised list, Fennell said, he would back off a little.

"IFSA will still be on the the podium . . . definitely," he said.

"Be on it, or sweep it" we asked.

"Sweep it," was Fennell's swift reply.

In addition to predicting the results, Fennell was quick to praise the FORTISSIMUS 2008 Steering Committee for the novel way they gave the strongman community a way to voice its opinion on who should be included in the contest, saying that he was "quite intrigued by the concept of a public poll . . . very interesting."