IFSA vs. WSM: Head-To-Head
Jarek Dymek's proposal that was reported by IronMind® last week has generated a lot of interest and one of the people to comment was IFSA Managing Director Christian Fennell, who would like to see Dymek's idea developed.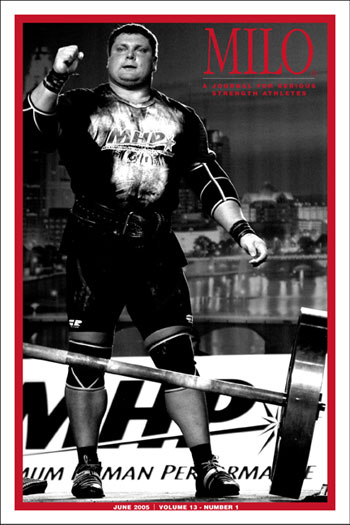 Nobody will argue that Zydrunas Savickas, the reigning IFSA world champion, is just plain flat-out strong and in Christian Fennell's proposal, the top three from the 2006 IFSA World Championships would compete against the top three from the 2006 World's Strongest Man contest - each side would choose three events, and the Atlas Stones would be included as the seventh. The losing side would pay US$25,000. IronMind® | Randall J. Strossen, Ph.D. photo.
Fennell told IronMind® that "the idea of a head-to-head contest is an interesting one," and the format Fennell proposed is this:

"In an attempt to gauge individual strength and depth of strength from each side, we look at having the IFSA Strongman 2006 World Championship podium versus the SS/TWI 2006 podium with each side selecting three events plus the all-time hallmark strongman event, the Atlas Stones, included - I thought it might make things a little more interesting if the losing side paid the winning side athletes $25,000USD."

Asked why not more prize money, Fennell said that this should be done in the spirit of keeping things friendly, and that if the prize money got too high, that might make things a little too serious.

What do you think?