IFSA or WSM Super Series for Svend Karlsen?
With rumors flying that Svend Karlsen is the latest strongman to leave IFSA, IronMind® has received an official statement directly from Mr. Karlsen, which should clarify both his current status and his plans for 2006.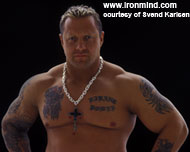 Svend Karlsen, the man who has made "Viking Power" a familiar cry and a popular cheer at top strongman contests around the world, told IronMind® that he has not yet made up his mind about whether he's competing next year. IronMind® | Photo courtesy of Svend Karlsen.
Svend Karlsen told IronMind®, "I have not joined Super Series and left IFSA. I have not made up my mind yet if I will compete at all for next year! I feel old. I will compete in Poland at the World vs. Poland [competition] on December 10, because I want to meet my best friend Jarek Dymek and because I can't compete in St. Maarten because of personal matters!"

There you have it - straight from the source.