IFSA World Championships: Results From the Semi-Finals
Just in, IronMind® has received the official results from the semi-final round of the IFSA World Championships.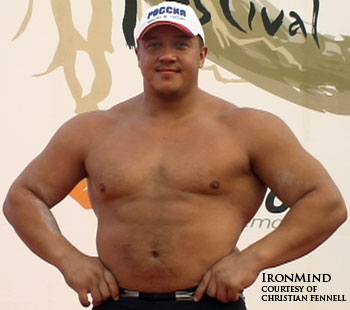 Don't call him an idle lat spreader: Michail Koklyaev won his heat in the semi-finals at the IFSA World Championships and has qualified for the finals. IronMind® | Photo courtesy of Christian Fennell.

"The top two from each heat move on to the finals, which will held on the 14th and 15th," IFSA Managing Director Christian Fennell told IronMind®.

Heat One

1. Michail Koklyaev
2. Vidas Blekaitus
3. Agris Kazelniks
4. Volodomyr Muravlov


Heat Two

1. Derek Poundstone
2. Jarno Hams
3. Georg Ogmundson
4. Michael Holding


Heat Three
1. Andrus Murumets
2. Van Hatfield
3. Nick Best
4. Matt Wanat


Heat Four

1. Vasyl Virastyuk
2. Tom McClure
3. Igor Pedan
4. Suck Young


Heat Five

1. Ervin Katona
2. Zydrunas Savickas
3. Etienne Smit
4. Hoygeun Min


Heat Six

1. Saulius Brusokas
2. Robert Szczepanski
3. Travis Ortmayer
4. Bumsoo Han

"There were some surprises," Fennell said, "in a great competition that came down to the wire in some heats. The top-seven ranked IFSA athletes all made it," Fennell said, referring to Koklyaev, Blekaitus, Murumets, Virastyuk, Savickas, Brusokas and Szczepanki, "and two guys made it who have been close in the past," Hams and Katona, "plus the three Americans: Poundstone, Hatfield and McClure."

"Poundstone was on fire," Fennell said, also explaining that Ortmayer got knocked out of the finals when he lost his grip on the third sack in the last event, costing him precious time he could not afford to lose.

Asked about Savickas placing second in his heat, Fennell said, "He's a world champion and a smart man. The last two days were all about getting to the next two days."