Talking about the 2007 IFSA World Championships, Managing Director Christian Fennell said "the seven day event" kicks off on September 9.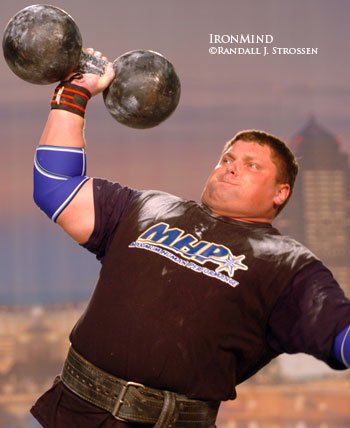 Zydrunas Savickas, who dominates the Arnold strongman contest, is the defending IFSA World Champion and has got to be favored to repeat in South Korea later this year. IronMind® | Randall J. Strossen, Ph.D. photo.

The first day will be the Korean Open, Fennell explained: "The top 10 Korean competitors will qualify for the IFSA Strongman World Open," which is the next day.

The top five competitors from the IFSA Strongman World Open will advance to IFSA Strongman World Championships Semi-Final heats on September 11.

The semi-finals will have "four heats of six competitors," Fennell said, "with the top three from each heat qualifying for the Finals," which will be on September 14 and 15.

"Currently, the following 19 athletes have qualified for the 2007 World Championship Semi-Final Heats," Fennell said:

Zydrunas Savickas - Lithuania
Derek Poundstone - USA
Nick Best - USA
Van Hatfield - USA
Steve MacDonald - USA
Matt Wanat - USA
Tom McClure - USA
Vasyl Virastyuk - Ukraine
Andrus Murumets - Estonia
Vidas Blakaitis - Lithuania
Robert Szczepanski - Poland
Mikhail Koklyaev - Russia
Ervin Katona - Serbia
Saulius Brusokas - Lithuania
Viktor Yurchenko - Ukraine
Mark Westaby - UK
Oleksandr Pekanov - Ukraine
Jarno Hams - Netherlands
Jani Illikainen - Finland

The IFSA Strongman 2007 World Championships are scheduled for September 9 - 15, in Geumsan, South Korea.