IFSA: "Very Significant Restructuring"
IFSA managing director Christian Fennell told IronMind®, "It's past due . . . Some things had to be dealt with and now we are dealing with them head on."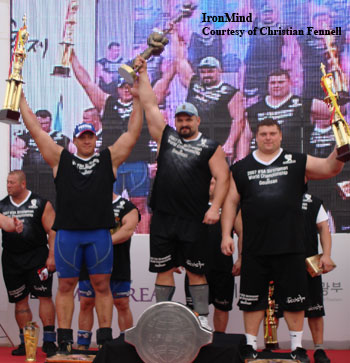 Here's the podium from the 2007 IFSA World Championships: The winner, Vasyl Virastyuk (center), is flanked by runner-up Misha Koklyaev (left) and Zydrunas Savickas (right, third place), and IFSA managing director Christian Fennell stands by his prediction that these three guys will be on the podium at next week's Arnold strongman contest, too. IronMind® | Photo courtesy of Christian Fennell.

"I don't think that it is any secret that IFSA Strongman is currently going through some very significant restructuring," Fennell said. "However, it is something that has been inevitable and necessary for some time now. Certainly, it is of the magnitude that it may have reason to concern many within the strongman community," explained Fennell, noting that that the changes, "involved personnel and the whole gamut."

"That said," Fennell continued, "it was unavoidable and hopefully worth the short-term pain that IFSA is experiencing now in order for IFSA to be placed in a far stronger position to continue to grow the platform that it started to build in 2005."

Ever the optimist, Fennell said, "I have 100% confidence that this restructuring will work out favorably and that we can all get back to business as usual within a very short period of time."

And as for the most recent obituaries that have been written for IFSA, Fennell said, "I'd hate to look at a corpse that's been [declared] dead as many times as IFSA . . . That would be pretty ugly."