Referring to the upcoming Arnold strongman contest as the "IFSA Open Championship," Dr. Douglas Edmunds, said the contest sets the stage for "non-IFSA strongmen to get their reputations destroyed."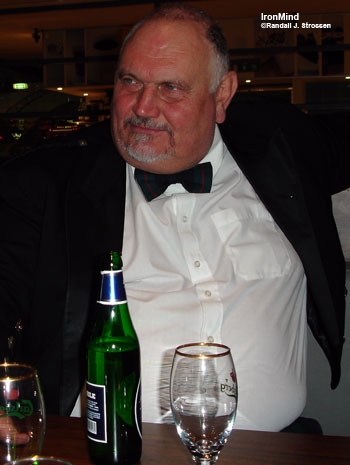 Dr. Douglas Edmunds, shown relaxing in Reykjavik last year at the Jon Pall premiere, told IronMind® today that he was joking as he portrayed the Arnold as a showcase for the supremacy of IFSA competitors. IronMind® | Randall J. Strossen, Ph.D. photo.

Saying that he was joking, Dr. Edmunds expanded on his thinking, saying that the non-IFSA strongmen "would get publicly humiliated," which is why "there was no percentage in them showing up." Instead of squaring off with the top guys as he sees them, Dr. Edmunds said that the non-IFSA athletes focus on "a second-division competition with a big title," but the Arnold strongman contest, he said, "is a platform for the best guys" and that it would "vindicate IFSA's position as the premier [strongman] federation."