IFSA Kits: Stainless, Standardized and Stunning
Historically, strongman contests have used equipment unique to a particular contest/promoter/athlete, and the general look was someplace between late Neanderthal and early Iron Age.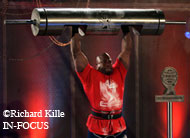 "Mark Felix on his way to winning the 2005 IFSA Strongman British Championships last weekend . . .This event was organised in Europe's biggest steel mill in Sheffield, UK. and it was stage-dressed to give the event the look and feel of the finishing scene of 'Terminator II,'" IFSA CEO Jussi Laurimaa explained. IronMind® | Richard Kille (IN-FOCUS) photo.

IFSA Strongman, with equipment maestro Jamie Reeves leading the charge, has changed all that.

Citing the need to establish credibility via events that are meaningful, but also dramatic, leading strongman event-equipment designer Jamie Reeves explained why IFSA has come out with its new equipment kit: stainless steel beauties for the six IFSA Classical Disciplines.

"We need to captivate an audience," Reeves said, and for someone who has both won the World's Strongest Man contest and worked on subsequent shows, Reeves speaks with substantial authority.

Explaining why an overhead lift is one of IFSA's core events, Reeves said, "For the purists, you have to have that element in it." To Reeves, acknowledging what is required to test a man's strength is vital, and not something that should be decided by the whim of a production team.

Reeves maintains that "there's no hiding" in the new IFSA format, because if you have a weakness, one of the events will reveal it, and with the introduction of standardized events, all strongmen can compare their performances in a meaningful way, whether they are in Alaska or Azerbaijan.

Reeves, who is one of the few people to have both bench pressed over 600 pounds and deadlifted over 800 pounds, points out that the new IFSA deadlift apparatus will bring new meaning to the lift in strongman as it uses a standard height, and the introduction of repping out with 320 kg has proven to sort out the weak from the strong, without giving an undue edge to one type of lifter over another.

An additional advantage of the IFSA approach, Reeves said, is it eliminates the cold showers sometimes awaiting competitors.

"There's no changing the goal posts at game time," Reeves said, and "you don't to have worry about showing up and facing an egg and spoon race."