For years, one of the bones of contention in top strongman contests has been who's in which heat, opening the door for all sorts of problems - both real and imagined.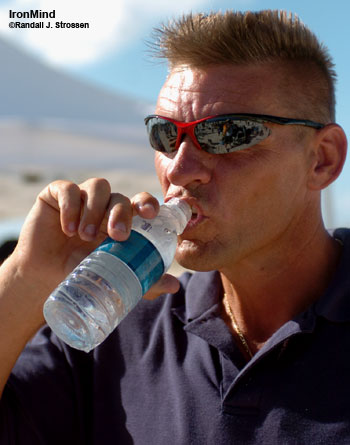 Looking like he's ready for a TV commercial or an action movie, Marcel Mostert is one of the key people behind the upcoming IFSA World Championships. IronMind® | Randall J. Strossen, Ph.D. photo.

The qualifying rounds of the upcoming IFSA World Championships will take a decidedly non-traditional approach, though, and they will be structured as follows: three heats of eight athletes . . . which might not sound too radical, but the details of how this will be done stand to be quite dramatic.

The kicker is that instead of sorting the competitors into heats based on whatever decision rules are favored, the IFSA World Championships are going to use a random drawing. Three team leaders have been designated, based on the IFSA rankings: Zydrunas Savickas, Mikhail Koklyaev and Vasyl Virastyuk. The remaining pool of 21 athletes are divided into seven bowls, each with three competitors, and in turn, the team leaders will draw a name from the first bowl, then move on to the second bowl, and so forth. IFSA's Marcel Mostert told IronMind®, "This has never been done before in strongman," and Mostert agreed that the drawing itself will generate interest. It will "make good TV," Mostert said. "The drawing will be filmed and will be exciting."

Mostert has been a leading organizer of strongman contests for years and he said, "I'm very happy that finally this is the most fair competition ever, and nobody can moan about seeded heats, athletes, etc. May the strongest win!"