IFSA Grand Prix . . . Latvia
IFSA kicks off its 2007 Grand Prix circuit this weekend in Latvia - this is a big contest and IFSA's Marcel Mostert told IronMind® that he expects a live crowd of 7,000 to 8,000 people returning to the same arena in Riga that was used for last year's contest.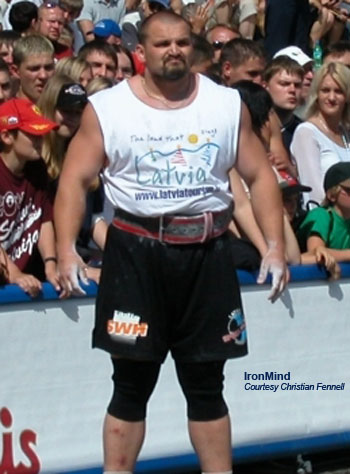 Top strongman competitor Vasyl Virastyuk, always in the hunt for a top position, will be in Latvia this weekend. IronMind® | Photo courtesy of Christian Fennell.
Organized by the the Latvian Federation, the field of competitors features hometown hero Raimonds Bergmanis, not to mention the top three from this year's Arnold strongman contest: Zydrunas "I Own that Contest" Savickas, the always-in-contention Vasyl Virastyuk, and the man who will no longer fly under the radar, Andrus Murumets.

Here is the official start list:

Raimonds Bergmanis - Latvia
Agris Kazelniks - Latvia
Zydrunas Savickas - Lithuania
Andrus Murumets - Estonia
Igor Pedan - Russia
Vasyl Virastyuk -Ukraine
Tomi Lotta -Finland
Jarno Hams - Holland
Adam Darazs - Hungary
Etienne Smit - South Africa
Steve McDonald - USA

At first glance, the events might not appear to be overly heavy by IFSA's ponderous standards, but as Marcel Mostert pointed out, this is the first time IFSA will be using 135 kg for the repetition Log Lift: "It's quite heavy . . . normally, we use 120 - 125 kg . . . we are setting a new standard," Mostert told IronMind®.

1. Medley - Farmer's Walk and Loading
2. Log for Reps - 135 kg
3. Super Yoke 25-30 m 380 kg
4. Truck Pull
5. Power stairs - 225, 250, 275 kg - 6 stairs
6. Stones - 100, 120, 140, 160 and 180 kg

Signifying the stature of his contest, IFSA has rolled out its all-star referees: Jamie Reeves, Ilkka Kinnunen and Marcel Mostert.

Prize money was reported to IronMind® as being 12,000 euros (about US$16,000).