Time was if you wanted to see a really heavy strongman contest, Finland was at the top of your list, and longtime strongman promoter Ilkka Kinnunen told IronMind that this year's IFSA Finnish Grand Prix will be in that tradition, "high quality and heavy."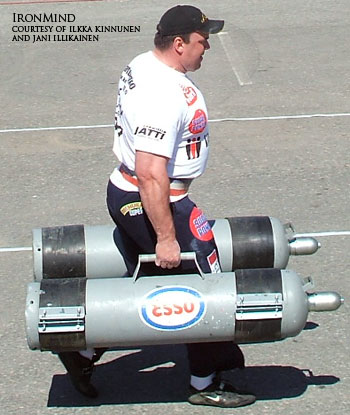 Jani Illikainen, coming off his victory at the recent Finland's Strongest Man contest, will be competing in the IFSA Finnish Grand Prix later this year. IronMind® | Photo courtesy of Illka Kinnunen and Jani Illikainen.

Although the full field has not yet been invited, Kinnunen told IronMind® that the athlete list will include Jani Illikainen, Robert Schepanski, Jarno Hams, Vidas Bleikaitis and Andrus Murumets. A total of ten athletes will compete, Kinnunen said.

Log lift for max, truck pull with harness, farmer's walk, hand-over-hand pull, Hercules hold and a medley will be the events, said Kinnunen.

Set for September 1, "The competition is the main event of the Oulu City Festival," Kinnunen told IronMind®.