IFSA 2-Man Team World Championships
This weekend, IFSA Strongman is holding its World 2-Man Team Championships, so IronMind asked IFSA Managing Director Christian Fennell about this contest format: Why a two-man championship? What's the special appeal of this format?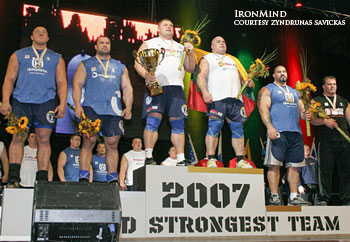 More than strong enough individually, how about top strongmen competing by the pair? That's what the IFSA World 2-Man Team Championships is bringing to Vilnius, Lithuania on October 7. IronMind® | Poster courtesy of Christian Fennell.

"IFSA Strongman considers the dynamics of these team events to be unparalleled in strongman, as they bring to the fore strategic team elements not found in individual strongman competitions," Fennell told IronMind®. "Further, they bring with them as strong sense of nationalism and comradeship . . . So watch what happens when you pair up the likes of Lithuania's Savickas and Blekaitis against Russia's Kokliajev and Pedan. Also keep an eye out for the USA heavyweight tandem of Poundstone and MacLure as they look to make up some ground after being part of the USA 4-Man team that made it to the finals, but came up just short earlier in the year at the IFSA Strongman World 4-Man Team Championships."

This event is being staged by the Lithuania IFSA Strongman Federation, and Fennell said, "We would like to thank all of their sponsors that have made the event possible."

Here are the events:

1. Squat + Deadlift
2. 2-Man Log Lift (250 kg)
3. Farmer's Walk (150 kg)
4. Tire Flip (350 kg)
5. Atlas Stones
6. Power Stairs
7. 2-Man Wheelbarrow
8. Medley: Super Yoke (400 kg), IFSA Shield (180 kg), Duck Walk (210kg), Keg Loading (3 kegs, 100 kg) on platforms

Putting it in a larger context, this competition format is "in keeping with IFSA Strongman's mandate to explore, develop and stage as many world class strongman events as possible," Fennell told IronMind®, so if you're going to be in Vilnius, Lithuania on October 7, be sure to stop by and catch the action.