IFSA USA/ASC/NAS president Dione Wessels filed this report after the first day of the IFSA 105-kg World Championships, where Gert Gorsanov (Estonia) leads.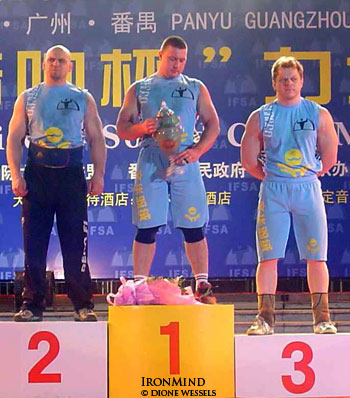 On the podium after the first day of the IFSA 105-kg World Championships (left to right): Janne Hartikainen (Finland), Gert Gorsanov (Estonia), Alvidas Brazdzius (Lithuania). IronMind® | Photo courtesy of Dione Wessels.

"The 105-kg World Championships opening ceremony started with many Chinese traditions, with speeches from organizers, executive committee representatives, Panyu City Government and the introduction of the athletes. Also included in the ceremony was the passing of the IFSA flag to Panyu City Government. All were in agreement that IFSA Strongman and Panyu City, China has formed a long lasting friendship and partnership. Many in China refer to Panyu as China's Strongman Country,'" Wessels reported.

The first day's competition included one event, the "Ruifeng Sound Cup Medley," which Wessels explained: "The medley consisted of athletes carrying two sandbags (100 kg each) for 5 meters, loading onto platform; walking 15 meters with farmer's (120 kg each) in each hand; then flipping a 350-kg tire for four flips in a 90-second time limit."

The action continues tomorrow: "The athletes will start with the 'Xiying Yajing Cup Arm Over Arm,' followed by the 'Panyu Tourism Cup Farmer's Walk',' Baomo Garden Cup Max Deadlift', and the 'Wenhua Down and Feather Cup Atlas Stones,' Wessels said.