No - Zydrunas Savickas did not say that, at least not to IronMind®, but let's face it: With his string of wins, the Arnold strongman contest seems like pretty comfortable territory for the man who once told Randall Strossen, "Why squat if you can't do 400 kg?"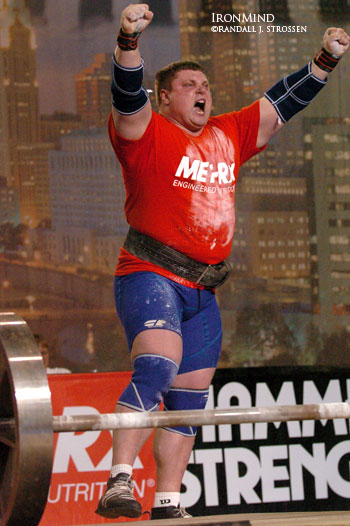 Zydrunas Savickas seems invincible at the Arnold, but will he win the strongman contest yet again? A lot of people think he will, but however it ends up, it should be quite a contest. IronMind® | Randall J. Strossen photo.


For a preview of what to expect, IronMind® invited IFSA managing director Christian Fennell to cast his vote, and he's calling for IFSA to sweep the podium.

"1, 2 and 3 . . . I think you have to give Big Z [Zydrunas Savickas] the advantage as this event is definitely his playground," Fennell told IronMind®, "as he has proven over the last five years. However, Vasyl [Virastyuk] is hungrier than I have ever seen him and he is definitely one guy you don't want to come up against when he is in peak shape, mad and hungry." Fennell continued. "As for Misha [Mikael Koklyaev], I know he is tired of being the IFSA Strongman bridesmaid, so pick your order, but it is these three again on the Arnold's 2008 podium."

"4, 5 and 6: Bennie [Benedikt Magnusson] will be the big surprise here, cracking this group of three, but the battle will be between [Andrus] Murumets and DP [Derek Poundstone], two very explosive and powerful guys who are without a doubt champions in waiting."

"After six," Fennell said, "well, who ever remembers anyway."

Whoever is your pick, remember this: The 2008 Arnold Sports Festival is February 29 - March 2 . . . see you there!