Sequim, Washington - It must have broken the town's heart to lose such a vital, widely-loved young man, and showing their feelings, upwards of a thousand friends and family members turned out for Jesse Marunde's memorial service today - a Celebration of Life - at the Sequim Community Church.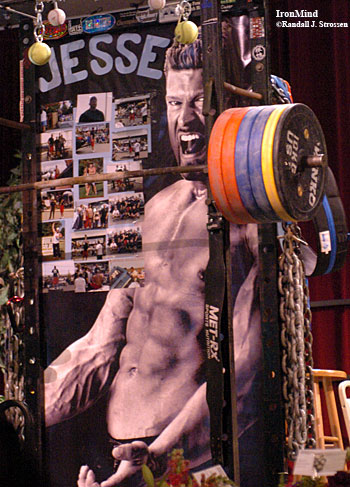 Part of Jesse's playground graced the stage at his memorial service today. IronMind® | Randall J. Strossen, Ph.D. photo.

The talks remembering Jesse were moving, but Callie Marunde summed it all up when she said, "I married a great man."

Following the the main service, the strongman contingent gathered in a separate room to share their favorite stories about Jesse, and at its conclusion, Jesse's true-blue buddy Sarge told everyone, in remembrance of Jesse, "to squat more," and to show that actions speak louder than words, they headed off to the gym to grind out their sets of high-rep squats.