"I Left Powerlifting Too Early"
Four-time World's Strongest Man winner Magnus Ver Magnusson told IronMind® today that he's been back in heavy training recently and has the goal of exceeding his best powerlifting total to date.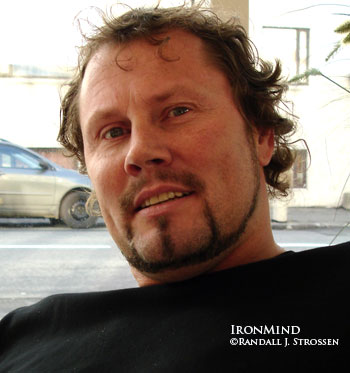 Relaxing in Reykjavik is not what Magnus Ver Magnusson is doing at the moment. The four-time World's Strongest Man winner is assaulting his powerlifting records, with the goal of setting lifetime PRs. IronMind® | Randall J. Strossen, Ph.D. photo.

Lifting raw, Magnus Ver said that his recent best lifts in the gym are 300 kg x 3 in the squat, 230 x 1 in the bench press and 340 x 1 in the deadlift, and that he hopes to work up to the range of a 400-kg squat, 300-kg bench press and a 380-kg deadlift, with plans to compete in the Icelandic championships next year.

"I left powerlifting too early to show my strength. I am going to break all my old records just to show the boys I can do it," explained Magnus Ver.

Saying that he is being joined by a group of older lifters and some younger ones, the core of Magnus Ver's training is two heavy workouts a week - bench press and shoulder one day, and squats plus back/deadlifts on the other, with the workouts running about three hours.

"We do set after set of squats . . . The workouts are so hard that they leave the young guys crying . . . calling their mothers. One guy said to me that he felt like he had been run over by a truck . . . and then it backed up and ran over him again."

With the sort of lifts and progress he's been making in the gym, and an offhand comment about his knees feeling pretty good, Magnus Ver had to know this was coming.

"Are you planning to compete in strongman next year?"

"We'll see about that," he said.