Hugo Girard: New Dad is Mending Well
Hugo Girard said today that he's well ahead of schedule in terms of his rehabilitation, and is out of his cast and walking around, although he won't be doing heavy squats or deadlifts just yet.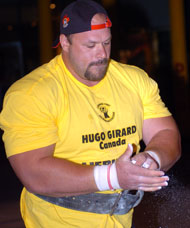 Halil Mutlu (Turkey) at the top of his pull, an instant before reversing directions, with his second attempt in the snatch (140 kg). IronMind® | Randall J. Strossen, Ph.D photo.
"I am out of the cast, walking around in running shoes, but the doctor says that it has not been long enough to allow me to start pushing . . .," mentioning a concern about the tendon strength not quite being there yet.

Girard had torn his Achilles tendon on the Hammer of Strength event at this year's Arnold, and following surgery he had been put in a cast which had been expected to still be immobilizing his leg now.

Continuing with the theme of regeneration, Hugo and his wife are the proud new parents of a son, Tyler, who Hugo describes, with a laugh, as "muscular and lean."

Welcome Tyler - congratulations Hugo and Nadine!