The great Quebecer strongman Hugo Girard and California's own Ken Brown - world record holder in the Silver Dollar Deadlift - honored IronMind with a visit yesterday and as part of the fun, our Inch dumbbell got so much airtime that it could almost qualify for elite flyer status.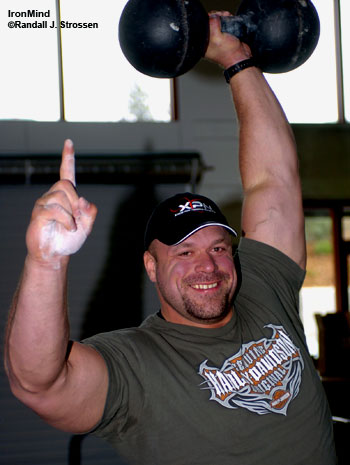 Working his way back from surgery, Hugo Girard made pressing IronMind®'s Inch dumbbell look like child's play. IronMind® | Randall J. Strossen, Ph.D. photo.

Hugo Girard, who holds the world record for pressing a replica Inch dumbbell for reps, wasted little time elevating the brute for everyone at IronMind® yesterday - pumping out reps that didn't look very hard. Hugo is healing up well, and along their way to IronMind® yesterday, Ken and Hugo stopped at a gym to train, and Hugo's workout included "squatting three plates," Ken said. Look for Hugo to return to strongman competition next June.

Meantime, it's a lot of training and exhibitions, where, as you might guess, Hugo handles an Inch replica so much that he said, "It feels like a toy." Incidentally, Hugo, who has a tremendous grip, said that after he has lifted a lot of large, heavy things in his exhibitions, he reaches into his pocket and pulls out an IMTUG®, which he closes for the crowd. "It is so small, after seeing all the big things I lift, they think they can close it, but they can't," Hugo said with a smile.

Speaking of grip strength, Ken Brown, as MILO® readers know, is certified on the No. 3 Captains of Crush® Gripper, and even before he tried to dent a flatbed with his chin in a strongman contest, we had Ken pegged as a MILO® guy. Over the years, we have consistently seen that if someone does unusually well with Captains of Crush® Grippers on his first try, it's more likely to be a guy who has done hard work with his hands than guy who can, say, bench press over 600 pounds and deadlift over 800 pounds. Well, Ken has all three going - he grew up on a ranch and among his many big lifts, he has exceeded both of those numbers just mentioned. Looking forward, Ken said he's been invited to the strongman contest that Odd Haugen is putting on at the 2007 FitExpo, and he's considering doing it, but whether he enters it or not, the world record in the silver dollar deadlift gets nervous whenever Ken Brown walks into the room.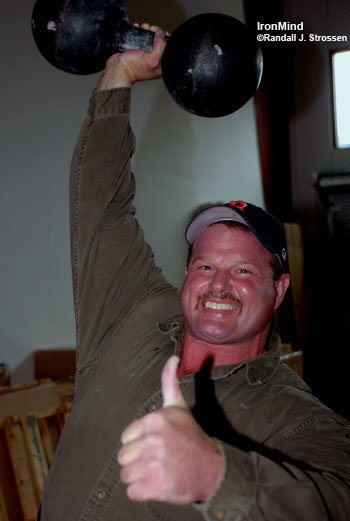 Besides lifting huge weights, Ken's a rancher, and since Hugo eats several pounds of beef a day, we wondered if Ken gets nervous about his livestock every time Hugo comes down for a visit. IronMind® | Randall J. Strossen, Ph.D. photo.