Hugo Girard: In a Cast Up To His Waist
His Achilles tendon was completely torn off the bone, and he just had surgery two days ago, but was Hugo Girard whining?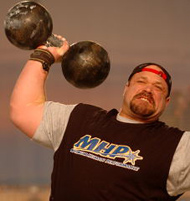 Hugo Girard (Canada) banging out reps in the Inch dumbbell press at the 2005 Arnold strongman contest (Columbus, Ohio). IronMind® | Randall J. Strossen, Ph.D. photo.

No way, and it's what Bill Kazmaier talked about in his seminar at the FitExpo a couple of weeks ago: the guys who keep chugging along even when they are thoroughly battered, versus the guys who are one hangnail from quitting.

Hugo underwent surgery on Sunday and he will spend the next two months in a cast, with the first three weeks being in a cast up to his waist, before graduating to one that stops below his knee.

This was the same foot he had hurt at World's Strongest Man, Hugo explained, and he was quick to say that his injury had nothing to do with the event itself - the Hammer of Strength - although Hugo noted that he should have warmed up more thoroughly for the event, and he said that next time, he will wear construction boots to get better ankle support.

The strongman whose popularity is as massive as his body remains thoroughly upbeat, and he said, "No doubt I'll be back 100%."