Six-time Canada's Strongest Man winner Hugo Girard told IronMind today that he's making a training DVD.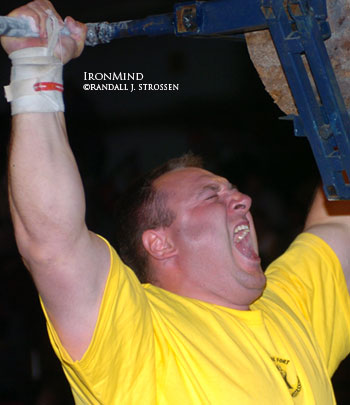 Jessen Paulin, shown at the 2004 World Muscle Power Championships, is a two-time winner of the Canada's Strongest Man Contest and he is on the short list of favorites for the 2007 edition of this top strongman competition. Randall J. Strossen, Ph.D. photo.

And talking training, what's the big man from Canada got on his plate next?

August 18 - 19 in Quebec City, Hugo Girard said he's planning to return to Canada's Strongest Man, which is expected to have a field that includes Jessen Paulin, Dominic Filiou and Louis Philippe Jean, and after Canada's Strongest Man, Hugo said he is aiming for a top performance at the World's Strongest Man contest.

Hugo Girard is a former world record holder on the Apollon's Axle and he is also considered one of the very best in the world on just about any form of heavy dumbbell pressing, so among other things, his DVD might provide just the ideas and the inspiration for everyone looking to boost his pressing power.