Hossein Rezazadeh: King of the Jungle
Dubai - He might not have looked his sharpest in the training hall a few days ago, but as the weights got heavier, there was no doubt today about who ruled the platform at the Asian Weightlifting Championships.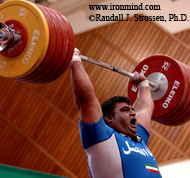 The next time you clean and jerk 260 kg, you are allowed to roar, too. Hossein Rezazadeh sweeps the gold medals in the supers at the Asian Weightlifting Champions today in Dubai. IronMind® | Randall J. Strossen, Ph.D. photo.

Weightlifting fans are going to be happy not just about Rezaazeh's performance, but also because Saeed Salem Jaber (Qatar) returned to competition.

Jaber opened with 180 kg in the snatch, which was a little rough, but he made it no problem. He took 190 on his second attempt and it was overhead, but it popped out, so he took it again on his third attempt for a good lift.

Rezazadeh made an easy 190 on his first attempt, an easier 195 on his second attempt, and for his third attempt, he snatched 200 kg as if it were a feather.

In the clean and jerk, Jaber made a nice first-attempt lift with 220 kg, and followed it with good lifts at 226 kg and 232 kg.

When everyone else had finished, Rezazadeh started, making an easy 240 kg, followed by a very easy 250 kg, which was capped off with an awesome 260-kg clean and jerk.

Earlier in the day, Said Saif Saad (Qatar) won the 105-kg category with a 390-kg total. Mohsen Beiranvand (Iran) got the silver medal with 383, and Dmitry Frolov (Kazakhstan) got the bronze with 368.