Hossein Rezazadeh: "I Only Lift for Iran"
Amid swirling rumors that the world's leading weightlifter - superheavyweight double Olympic gold medalist Hossein Rezazadeh - was considering lifting for another country, the superstar told IronMind® without any ambiguity, "I only lift for Iran."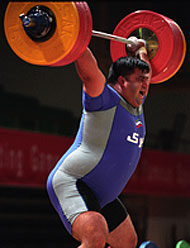 Hossein Rezazadeh (Iran) on his way up with a world record 213-kg snatch at the 2003 Asian Weightlifting Championships (Qinhuangdao, China). IronMind® | Randall J. Strossen, Ph.D. photo.
By virtue of his accomplishments, Hossein Rezazadeh is the king of the jungle in the weightlifting world, and he holds all three world records in the sport: snatch (213 kg), clean and jerk (263.5 kg), and total (472.4 kg). Rezazadeh said that "God willing," his world records will be in jeopardy at the World Weightlifting Championships later this year.

Coming off an extended rest following his huge victory at the Athens Olympics, where he won the gold medal and broke the world record in the total, Hossein Rezazadeh said that he and the rest of the Iranian national weightlifting team are now in training for the world championships.

Currently, Rezazadeh said he is snatching 200 kg, cleaning and jerking 255 kg, and squatting 380 kg - at a body weight of about 158 kg.

An absolute hero at home, Hossein Rezazadeh's fame has circled the globe: Reminded that he has many fans not just among American weightlifters but also within the large Iranian population in the US, Hossein Rezazadeh said he sends his greetings.