Hossein Rezazadeh: Golden Future
Describing his current form as being about "90%," Hossein Rezazadeh (Iran)told IronMind® today that the World Weightlifting Championships will be his next contest this year, and his goal there is to add to his mighty pile of gold medals, first, and second, to break his own world records.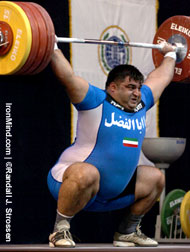 We call him the King of the Jungle: Two-time Olympic gold medalist Hossein Rezazadeh (Iran) holds all three world records in the super heavyweight category, so for him, snatching this 210 kg at the 2005 World Weightlifting Championships (Doha, Qatar) was just another day in the office. IronMind® | Randall J. Strossen, Ph.D. photo.

Hossein Rezazadeh competed in the recent Asian Inter-Club Championships (Tashkent, Uzbekistan), where he did a routine 195/240, and he said that his training right now is still quite easy, and he is not pushing hard yet.

What's easy for Hossein Rezazadeh would be someplace between wholly impossible and merely knee-buckling for almost everyone else in the world, as he is snatching 200 kg, cleaning and jerking 250 kg, and doing [Olympic] weightlifting-style back squats with 370 kg.

Following the World Weightlifting Championships in September, Hossein Rezazadeh said that he plans to lift at the Asian Games in December, so we predict that by the end of the year, Hossein Rezazadeh will have rewritten the record book . . . again.