Hossein Rezazadeh: 29 and Focused
He recently turned 29 and while the theory is that he is in his prime years as a weightlifter, Hossein Rezazadeh (Iran) told IronMind® that he has a very simple way of evaluating how he is doing.



Hossein Rezazadeh sits down to his birthday cake, celebrating his 29th birthday in Tehran. IronMind® | Mohammad Babaei photo.

"If I win my third gold medal at the Olympics in Beijing," Rezazadeh said, "then that will be my greatest year."

For the last several years, there has been little competitive pressure on Rezazadeh as he has dominated the sport and had a relatively easy time with victories since he placed third at the 1999 World Weightlifting Championships.

The next year, at the Sydney Olympics, Rezazadeh won the gold medal and he has been on a victory roll ever since: After sitting out the Worlds in 2001, he returned to competition and has since won each of the four World Championships, two Asian Games and one additional Olympics since then.

But, things seem to be shaping up for a showdown in Beijing as the Chinese Weightlifting Association appears to be capable of fielding more than one top super heavyweight by the time of the 2008 Olympics - a development that two-time Olympic Champion Andrei Chemerkin (Russia) first predicted for Randall Strossen several years ago.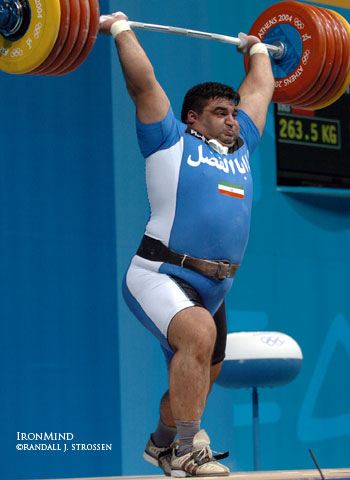 He won the gold medal with his first clean and jerk (250 kg) in Athens, but on his third attempt, Hossein Rezazadeh punched up this 263.5 kg clean and jerk for a new world record. IronMind® | Randall J. Strossen, Ph.D. photo.