Hossein Rezazadeh: 200/250
All eyes in the weightlifting world will be on Hossein Rezazadeh, Iran's super super, when he steps on the lifting platform at the world championships later this year in Thailand, trying to gauge whether the two-time Olympic gold medalist and owner all the world records in the super heavyweight class is on track to three-peat in Beijing next year.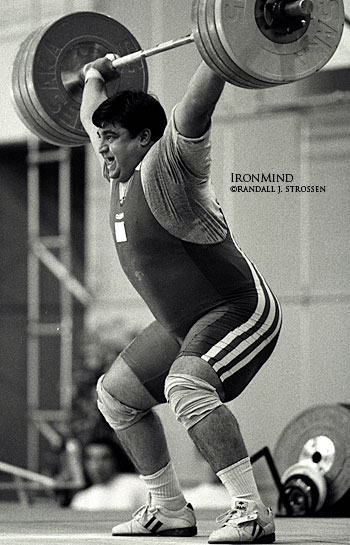 Why is this man smiling? This was the first time that Hossein Rezazadeh snatched 200 kg officially - it's at the 1999 World Weightlifting Championships (Athens, Greece). IronMind® | Randall J. Strossen, Ph.D. photo.
The first time this writer had heard of Hossein Rezazadeh was after his appearance at the 1998 Asian Games and then in 1999, at the World Weightlifting Championships, I saw him for the first time. This was the first time Hossein Rezazadeh would officially snatch 200 kg, which was good enough for a silver medal at this competition.

The following year, at the Sydney Olympics, Hossein Rezazadeh would snatch a huge 212.5 kg, and then clean and jerk 250 (the first time he hit that watershed number officially), on his opener. Next up were 255 and then 260 - both were good lifts and guess who left with his first Olympic gold medal?

"My training is going very well," Rezazadeh told IronMind® today. "I am snatching 200 kg, and cleaning and jerking 250 kg in training."

As big as these numbers are, both absolutely and relatively, this is a standard performance for Hossein Rezazadeh, so more than anything, they should signal that that the king is not preparing to give away his crown.

"My top priority is the gold medal," Rezazadeh told IronMind® when asked about possible world record attempts in Thailand. "That is what is most important," he said.