Hooking for Success: Grip Tighter and the Weights Feel Lighter
In this month's "Schmitz on the Lifts," ace weightlifting coach Jim Schmitz talks about hooking for success - explaining how this unusual grip boosts your lifts, and how you learn to do it.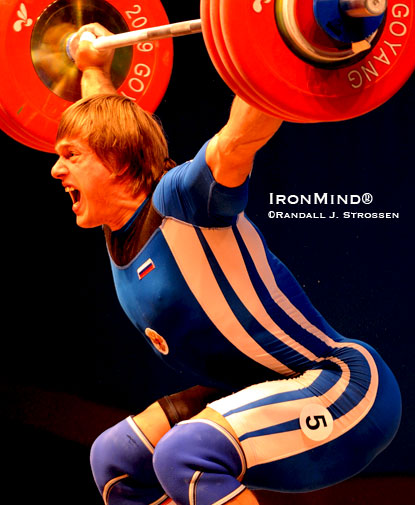 Dmitri Lapikov (Russia) snatches 194 kg in the 105-kg category at the 2009 World Weightlifting Championships (Goyang City, Korea). Notice Lapikov's right hand: It would be virtually impossible to snatch world-class weights without using a hook grip. IronMind® | Randall J. Strossen photo.


It's safe to say that you're unlikely to discover the hook grip by accident, and even once you've been introduced to it, you might be reluctant to adopt it. The advantage of a hook grip is that - short of using lifting straps - it provides the most secure grip you can have on a bar. The downside is that it's a pain, literally, to learn. Is it worth it? Absolutely, because once you've got the hook grip wired, watch for some personal records.

Nobody ever died of sore thumbs, so if you want to lift bigger weights, make the hook grip a standard part of your lifting. Let "Schmitz on the Lifts: The Hook Grip" teach you how.