Hoffa, Nelson: Gold, Silver in Osaka
American men continued their winning tradition in the shot put as Reese Hoffa won the gold medal at the IAAF World Championships today, and Adam Nelson nabbed the silver medal.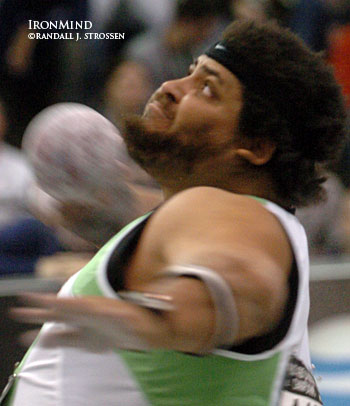 Reese Hoffa at speed in Boston at the USA Indoor Championships in February, where he was third. Hoffa's season continued with a win at USA Outdoor Championships in June, and today he won the World Championships in Osaka, Japan. IronMind® | Randall J. Strossen, Ph.D. photo.

Hoffa has been red hot this year and he showed no signs of cooling off in Osaka today, where he posted the top four throws, winning with his third-round 22.04-meter throw. Nelson's silver medal throw of 21.67 meters came in the second round, one of only two good throws he made. The bronze medal went to Andrei Mikhnevich (Belarus). 2004 Olympic medalist Joachim Olsen (Denmark) was expected to be a major factor in the division of medals, but, unfortunately, he wasn't able to hit a good throw today.