Historic USPS Strongman Envelope
Charleston, West Virginia - Phil Pfister made modern strongman history by winning the 2006 MET-Rx World's Strongest Man contest, and this year he rang the bell again - as he was honored on a limited edition commemorative envelope issued by the United States Postal Service.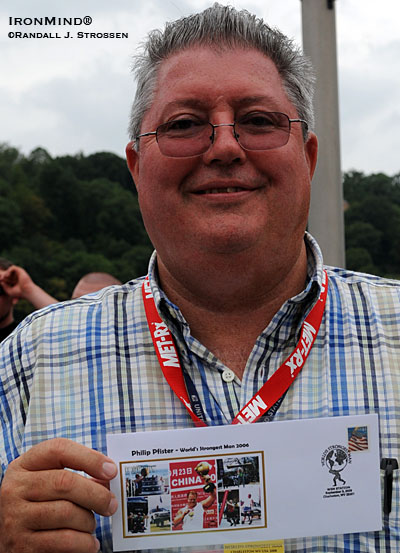 Kim Whittington holds up the result of his inspiration: A USPS Retail Specialist, Mr. Whittington came up with the idea of developing this commemorative envelope to honor Phil Pfister. IronMind® | Randall J. Strossen, Ph.D. photo.


This special envelope is available at "several Appalachian District Post offices while supplies last. Envelopes will also be sold as souvenirs during the World's Strongest Man competition at Chesapeake Energy tents set up around the city." IronMind® was told that "Phil Pfister has promised to autograph one envelope for anyone who purchases five or more," so here's your chance to get a unique piece of strongman memorabilia.