Highland Games World Champions at Pleasanton
Pleasanton, California will once again host its world-class Highland Games as the 30th Anniversary of the U.S. Invitational Heavy Events Championships takes place this weekend.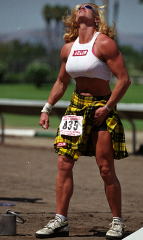 Looking for a hole in the sky, Shannon Hartnett gets ready to launch another world record throw. IronMind® | Randall J. Strossen, Ph.D. photo.

Perennial women's world champion Shannon Hartnett and three-time men's world champion, Ryan Vierra, will be among the star-studded competitors. In addition to the top talent on the field, five-time world champion Jim McGoldrick will be on hand to present trophies and David Webster will be calling the action. Athletic Chairman Steve Conway always puts on the finest of contests and every expectation is that this year will be no exception.