Highland Games: Finnish National Team Championships
"The first Highland Games National Team Championships in Finland," took place over the weekend, Piia Aaltokoski reported to IronMind.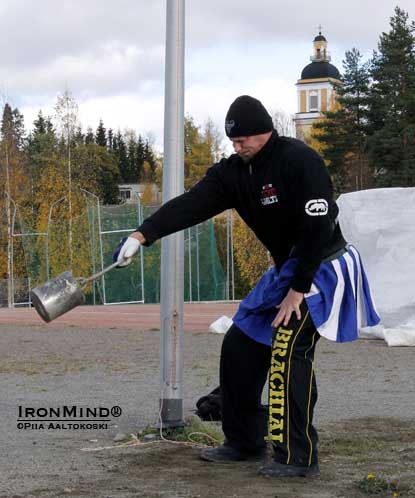 "Timo Nissinen, a home town hero from Leppävirta, was the only man to turn the caber. He has helped me a lot in building Highland Games in Finland and he is very promising athlete also," Jyrki Rantanten told IronMind. IronMind® | Piia Aaltokoski photo.


"The competition was held in sunny Leppävirta and the organizers did a great job with the contest.

"In the men's class Yrjö Hämäläinen/Jyrki Rantanen battled hard in each event with Timo Nissinen/Jukka Vesterinen and in the end edged them out by two points. In women's class, as usual Jaana Tanner was hunting new trophies and that´s what she did with her teammate Ida Pohjanlehto, who is very promesing newcomer in strength events.

"The Best Thrower's awards went to Hämäläinen and Tanner," said Aaltokoski.



###

The IronMind Forum: discuss this article, talk strength, get help with your training.

You can also follow IronMind on Twitter.