Highland Games: European League in 2005
With the goal of reclaiming their supremacy in the Highland Games world, a European League is being formed for 2005.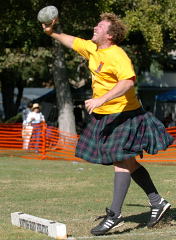 Top Highland Games competitor Dave Barron (USA) rocks at Pleasanton. IronMind® | Randall J. Strossen, Ph.D. photo.
Maybe it's Jim McGoldrick's (USA) and Matt Sandford's (Australia) fault for winning so many Highland Games World Championships, because some guys in Scotland, in particular, would like to assert their supremacy in the Highland Games. Toward that end, Gregor Edmunds, a former World's Strongest Man competitor who has also made his mark in the Highland Games, is said to be spearheading an effort to organize a European League, which would then go on to challenge a US team for top bragging rights.

Even after McGoldrick retired, there has not been a shortage of top American talent on the international Highland Games circuit, so the idea of a European–USA team contest should see some high-level throwing.