Highland Games Clinic with Pierson and Vierra
If you're looking to looking to improve your Highland Games performance and think you can handle a non-traditional climate - or if you are just looking for a good excuse to head to Arizona in January - Ryan Seckman has put together a program that will be hard to pass up.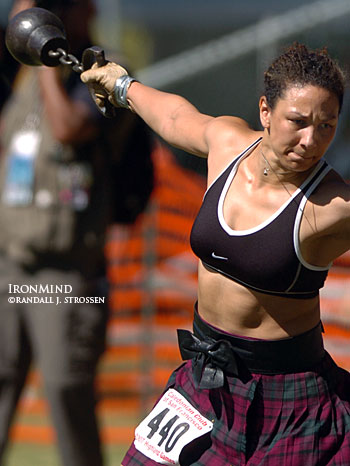 2007 Highland Games World Champion and Pan American Games discus thrower Summer Pierson will team up with five-time Highland Games World Champion Ryan Vierra to lead a clinic in Mesa, Arizona next January . . . thaw your bones and learn how to throw farther at the same time. IronMind® | Randall J. Strossen, Ph.D. photo.

On January 5th next year, five-time Men's Highland Games World Champion Ryan Vierra and 2007 Women's Highland Games World Champion Summer Pierson, who also represented the USA as a discus thrower at this year's Pan American Games, will be leading a clinic, "going over all of the traditional Scottish Athletic events as well as other general info to help you in the 2008 and future seasons," Seckman told IronMind®. This clinic will be held at Mesa Community College and Seckman said that more plans are in the works for future clinics in the area, so stay tuned for additional details.