"He's My New Secret Weapon"
Asked about Stefan Solvi Petursson, Magnus Ver Magnusson said, "He's my new secret weapon . . . him and Benedikt."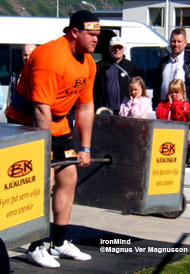 Stefan Solvi Petursson, a name to remember, on the Silver Dollar Deadlift at this weekend's IFSA Iceland's Strongest Viking contest. Incidentally, Magnus Ver Magnusson said that this Silver Dollar Deadlift starts with the bar only about two or three inches higher than a normal bar, "to make more of a lift out of it." IronMind® | Magnus Ver Magnusson photo.

Benedikt, of course, is Benedikt Magnusson, the prodigious deadlifter who has his sights set on pulling half a ton or so, but Stefan Solvi Petursson remained someone IronMind® wanted to know more about.

Four-time World's Strongest Man winner Magnus Ver said, "Last fall, both started training with me. I was helping Benedikt get ready for the Arnold. Stefan is learning quickly, picking things up fast."

This is quite a compliment coming from the man who was known for using his brains as well as his brawn as he racked up strongman victories. "Stefan has pulled 400 kg to his knees, in a contest," Magnus Ver said, so if you are starting to understand what a phenom he is, hold on, because he is only 20 years old.

Stefan Solvi Petursson stands about 1.94 meters tall and weighs about 150 kg, Magnus Ver said. "He is fascinated with the power sports." And proving that his interest isn't purely academic, besides winning overall contest this weekend, his keg toss was a new Icelandic record, Magnus Ver said: Stefan Solvi Petersson threw the 20-kg keg 5.40 meters.