He's Back: Vlad Redkin Launches WSF
Showing that he might have more lives than a cat, Vlad Redkin, who started with IFSA and then moved to WSMC, told IronMind® today that he has launched a new strongman federation, WSF, which is just days from holding its first contest, and the list of competitors includes Mariusz Pudzianowski, Mark Felix and Tarmo Mitt.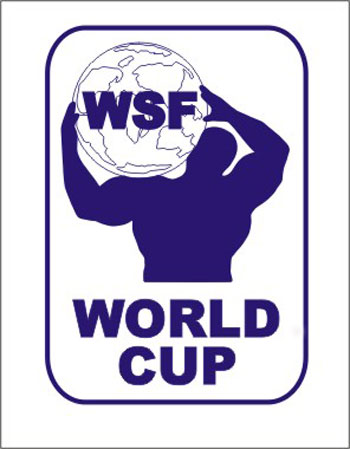 The World Strongman Federation (WSF) kicks off its inaugural season on February 22. IronMind® | Logo courtesy of Vlad Redkin.

World Strongman Federation (WSF) is set to launch on February 22 in Irkutsk, Russia, Vlad Redkin told IronMind®.

Some fledgling strongman federations struggle to get big-name competitors, but look at who Vlad has set for the starting line of the first stage of the WSF World Cup:

1. Mariusz Pudzianowski (Poland)
2. Mark Felix (Grenada)
3. Stojan Todorchev (Bulgaria)
4. Tarmo Mitt (Estonia)
5. Anatanas Abrutis (Lithuania)
6. Elbrus Nigmatullin (Russia)
7. Rolands Gulbis (Latvia)
8. Pavel Soroka (Belarus)
9. Dmitry Kononec (Russia)
10. Vjacheslav Maksjuta (Russia)
11. Konstantin Homjakov (Russia)

The events are:

1. Farmer's walk: 2 x 150 kg for distance
2. Log lift: 130 kg for reps
3. Conan's wheel: 350 kg
4. Deadlift: car for reps
5. Medley: duck walk (200 kg) + tire flips (350 kg)

This contest is being promoted by Sergey Usov.