Heavy, Heavy at Muscle Beach
What else would you expect from an Odd Haugen contest - it's got to be heavy.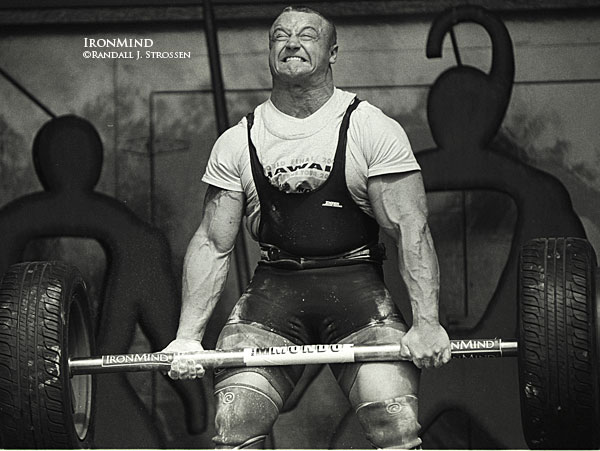 Odd Haugen was quick to recognize the strength-challenging aspects of IronMind®'s Apollon's Axle™ and he has been using it in his strongman contests for years, in a variety of events. In 2003, for example, at the Hawaiian Grand Prix, in addition to using it on the overhead lift, the Apollon's Axle™ was used for the deadlift - Mariusz Pudzianowski competed on that event then, and you can see him do the same thing again at Muscle Beach next month. IronMind® | Randall J. Strossen, Ph.D. photo.

Here's the first glimpse of the events for the WSMSS Muscle Beach Grand Prix, and since you already know this isn't going to be a foot race, you won't be surprised to hear that a Deadlift Medley will be one of the featured tests of strength . . . begin with a 250- kg/550-pound Fishing Pole Deadlift, and if you hoist it, you can go on to the 300-kg/660-pound Apollon's Axle™ Deadlift; success at that stage earns you the right to deadlift 320 kg/705 pounds on a standard powerlifting bar . . . and if you've passed all the preliminary tests, here's the final exam: Now, you can run (maybe) because you'll grab a 400-kg/880-pound frame and carry it 10 meters for time.

And guess what's coming out of retirement? The Tombstone . . . this 410-pound stone that Odd got for his birthday a few years ago will be returning to action and it might be the source of some nightmares because it's going to be used for a front carry, chugging up and down a 20-meter course for time. But before you can show everyone how fast you can move while bear hugging the Tombstone, Odd says, "You've got to be strong enough to pick it up off the ground," meaning that this event will be run in the style of the original Husafell Stone Carry.

It's on June 16 in Venice, California . . . the WSMSS Muscle Beach Grand Prix.