Have a Seat—Let's See How Strong You Are
The New York City Sit-Down Arm Wrestling Showdown will be held at Cheap Shots Sports Bar on February 9, so is you think you're strong, sign up, sit down and pull.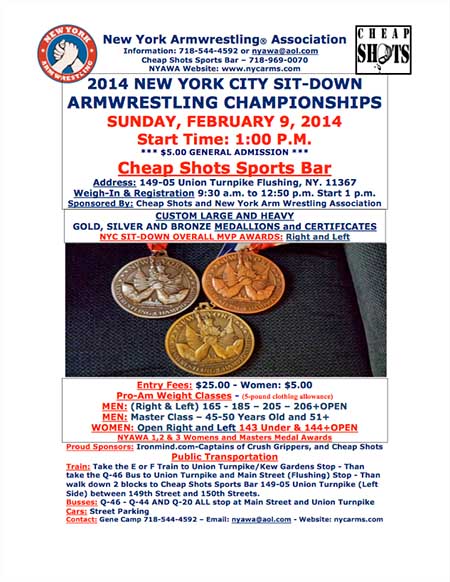 For 37 years, New York Armwrestling Association (NYAWA) has been dedicated to producing the best in armwrestling, and on February 9th the NYAWA will host the NYC Sitdown Armwrestling Championships at Cheap Shots Sports Bar in Flushing. IronMind® | Artwork courtesy of NYAWA

"The New York City Sit Down will surely produce the best brute strength arm wrestlers; since little technique can be performed in the sit down position ," said Gene Camp, founder and president of the New York Arm Wrestling Association. "Not many people know that the NYAWA's first arm wrestling events were all sit-down back in 1977 and 1978. This event is going to be very exciting to watch because many previous stand-up arm wrestling winners are competing without being able to use their signature techniques in this one-on-one brute strength, sit-down championship."

For full details, please visit www.nycarms.com

###



Want to talk strength? Join the IronMind Forum.

You can also follow IronMind on Twitter and on Facebook.