Hassle Free: School-Age Champs
Northern California's Hassle Free Barbell Club just "swept the three team titles for boys at the School-Age Nationals," Paul Doherty told IronMind®.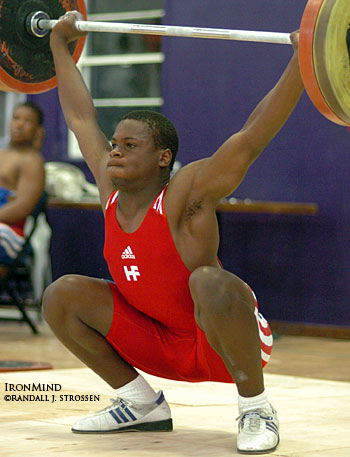 Lifting in the 85-kg class, Donovan Ford nailed this 100-kg snatch at Sacramento High School in April, where he also cleaned and jerked 125 kg. This weekend, at the School-Age National Championships, Donovan cleaned and jerked 135 kg and then "took a seven-kilo jump to 142 for the gold . . . cleaned it strong, close miss," his coach Paul Doherty told IronMind®. IronMind® | Randall J. Strossen, Ph.D. photo.

Paul and his brother Kevin are featured in the June issue of MILO - they run very successful weightlifting programs at Sacramento High School (Sacramento, California) and Lincoln High School (San Francisco, California), which, besides producing top young weightlifters, do a world of good in the community and should inspire others to launch similar programs.

Hassle Free's haul at the School-Age National championships included four individual gold medals, three silver and two bronze medals.

Please check the official USA Weightlifting website for complete results from the School-Age National Championships.