Harrison Bailey III Wins 2008 USA Highland Games National Championships
"After five rain-soaked events on Saturday, Harrison [Bailey] was sitting in a solid first place," Steve Pulcinella reported to IronMind®, and as it turned out, the rain clouds were only warming up on the first day of competition in the 2008 USA Highland Games National Championships held at the Celtic Classic in Bethlehem, Pennsylvania.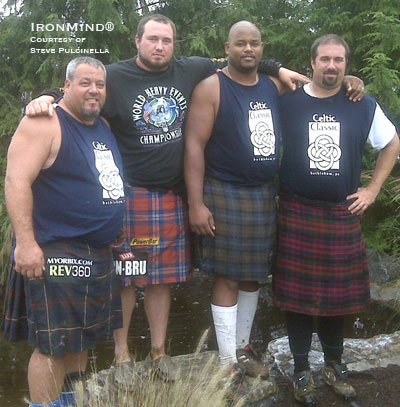 Left to right: Ryan Vierra, Larry Brock, Harrison Bailey, Sean Betz. IronMind® | Photo courtesy of Steve Pulcinella.

"Only four events on Sunday separated Harrison Bailey from his second Celtic victory," Puclinella said. "After two events were finished on Sunday, Harrison Bailey had gotten even further out in front and it looked like no one could catch him. As a result of four inches of rain falling Saturday night and throughout the morning on Sunday, the field conditions had gotten so bad the organizers had to call the event at that point. The 22-lb. hammer and 28-lb. weight-for-distance were not contested."

"Sean Betz was second; and Ryan Vierra and Larry Brock tied for third."