Harrison Bailey III Leads at Pleasanton
Pleasanton, California - HB III (Harrison Bailey III) had a big day at the U.S. Invitational Heavy Events Championships - winning three of the four events today and emerging as the leader after the first day of competition at this major Highland Games competition.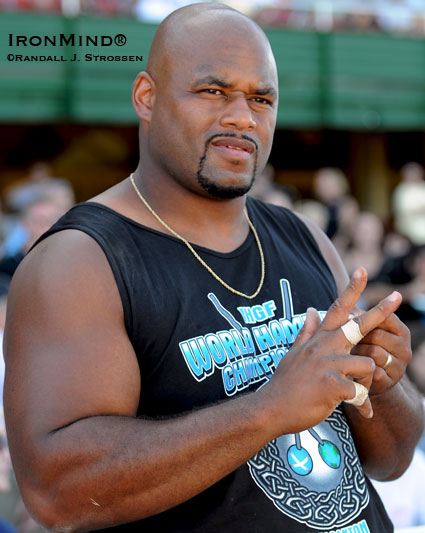 Harrison Bailey III is in the driver's seat at Pleasanton, where he told IronMind® that if he can remember his hammers tomorrow, things will be looking good. IronMind® | Randall J. Strossen photo.


Here are the cumulative points after day 1:

Harrison Bailey III 14.5 points
Sean Betz 17
Daniel McKim 22
Michael Pockoski 25
Scott Rider 26
Eric Frasure 26.5
Bert Sorin 31.5
Ryan Vierra 31.5
Rusty Price 39
Lucais McKay 42

The action started with close competition on the Braemar Stone: Sean Betz won with a throw of 37' 11-1/2", followed by Rusty Price at 37' 10-1/2" and then Scott Rider at 37' 7".

Bert Sorin won the 16-lb. hammer, and from there it was Harrison Bailey III's day as he swept through the remaining three events, starting with the 56-lb. weight for distance - where he won with a throw of 45' 5-1/2". He was first equal with Eric Frasure on the 56-lb. weight for height (both making 18') and then added a victory on the caber to his haul for the day.

Harrison Bailey III was tipped as an early favorite for the podium, and 2008 Highland Games world champion Sean Betz told IronMind® earlier in the day that he saw HB III as the man with whom he would most likely be locking horns in the quest for top honors here at Pleasanton - citing HB III's consistency.

HB III had quite a day and Sean Betz's crystal ball is looking pretty good, too.
Follow the action again tomorrow on IronMind®'s Twitter account.